Put your brand directly in front of the Horsemart audience
If you've got an upcoming event, product launch or a special offer you're focussing on this season, you can send an email campaign directly to our network of horse enthusiasts. Email marketing is highly targeted, cost effective and fully trackable, so you can see exactly how your campaign is working for you. You can design your own email campaign, or our specialist design team can help you create an eye-catching email that is optimised for our audience of equine enthusiasts.
18-24 Years

19%

19%

25-34 Years

17%

17%

35-44 Years

19%

19%

45-54 Years

30%

30%

65+ Years

4%

4%
Female

85%

85%

Male

15%

15%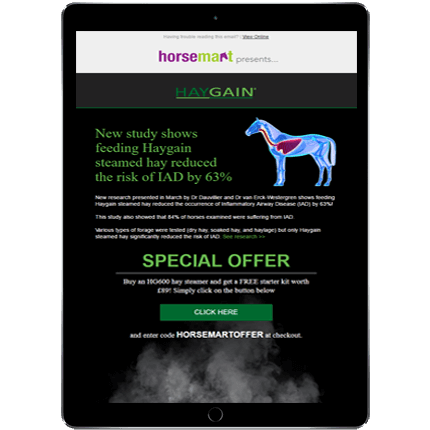 Haygain

Haygain wanted to promote their steamed hay to our audience, so they sent out this beautiful, high impact email campaign to 19,000 horse enthusiasts who had recently engaged with Horsemart. The results were excellent.
Sent to: 19,200 Horsemart subscribers
Unique opens: 4,633 individuals opened and saw the email (25%)
Clicks throughs: 143 individuals clicked through to their website
Haygain chose to promote their HG600 hay steamer on their targeted email campaign and encouraged sales by offering our users a unique discount code titled 'HORSEMARTOFFER'.
Top tip: Subject lines

Having a great subject line is half the battle when it comes to email marketing. The software that Horsemart uses enables us to split test up to 3 different subject lines. It sends the email to a small portion of the database, sees which one gets the best open rate, and then sends the email to rest of the database using the winning subject line. In Haygain's case, 'Haygain FREE starter kit offer' encouraged their impressive 25% open rate.
Wilson Auctions
Wilsons wanted to promote their upcoming auction to the Horsemart database to encourage more people to attend and bid on the six show jumping horses being auctioned with no reserve! The content went down very well with the Horsemart audience as they are an equine loving audience and find this type of content really engaging.
Sent to: 19,249 Horsemart subscribers
Unique opens: 4,863 individuals opened and saw the email (25%)
Clicks throughs: 440 individuals clicked through to their website
Top tip: Keep it brief

You might be tempted to pack your email full to the brim with hundreds of words and different messages, but this is something we strongly advise against. Our results show that emails which generate the best response from our audience are short and snappy, and easy for the reader to understand.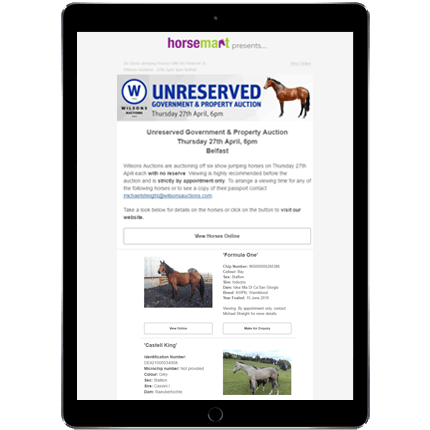 Your email design
You can completely tailor the email to the styling of your own brand, or alternatively, you can fill one of our ready-made product templates and feature within a pre-determined email alongside other like-minded businesses.
We have a very experienced design team who can help make the messaging and look of the email smart (if you wish). You have total freedom over subject lines and content, but of course, we are happy to offer our advice too, if you like.
Ways to segment our database
We can segment our database in a few different ways to ensure your email only reaches the most appropriate target audience, the people most likely to be interested in your products and services:
Location
E.G Region, city or town that you want to target
Enquiry category
E.G Only send my email to people who have enquired about horseboxes
Open date
E.G Only send my email to engaged people who have opened other emails from Horsemart within the last 3 months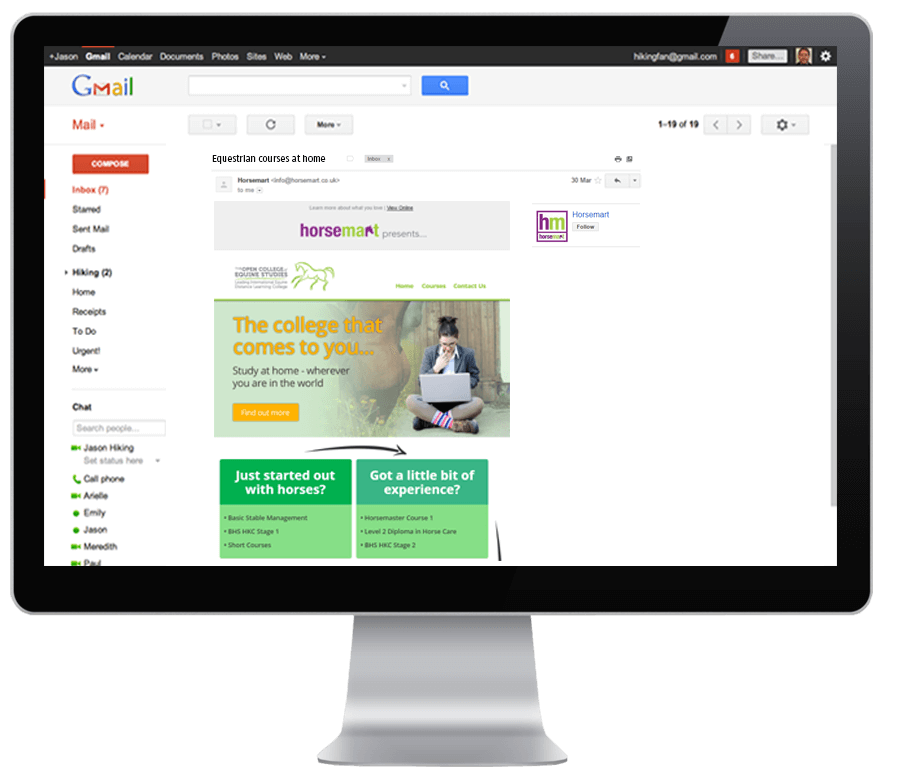 Target specific sections on Horsemart
"I started using Horsemart as they offered a good package of a yard and design of a website for the business. I find that Horsemart works very well with advertising as once I upload an advert it automatically goes on my website which increases my audience.
I have found that with horsemart I get regular calls about a wide range of horses from both local and international clients. I would  highly recommend horsemart to any others!"