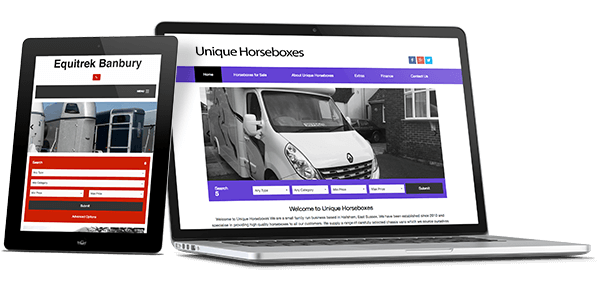 We build powerful and affordable websites for horse and trailer dealers
What is Spidersnet Equine?
As the name suggests, our equine dealer website solution, Spidernet Equine, offers you limitless opportunities for your business to advertise online. It's our must-have solution for digital dominance, which has been created to save equine dealers time and effort, whilst maximising online exposure of your stock.
Spidernet Equine provides you with a beautiful website tailored to your business needs and a suite of tools that makes managing your business online easy and effective at the same time. Your website will be incredibly easy to manage and update, and any stock you want immediate exposure to, will benefit from being not only on your website but Horsemart and a number of our partner sites as well.
We have many customers who are utilising our unique Spidernet Equine solution currently, ranging from small, relatively new businesses, to established business with over 100 horses for sale at any one time. Take a look at how they're getting on.
What do I get?
Automatic syncing of ads between your brand new website and Horsemart, saving you time
Ability to appear highly within Google for your local search terms
One central place to manage all of your stock and enquiries
Complete control over the ongoing look of your website
A website which is fully responsive, meaning it looks great on any device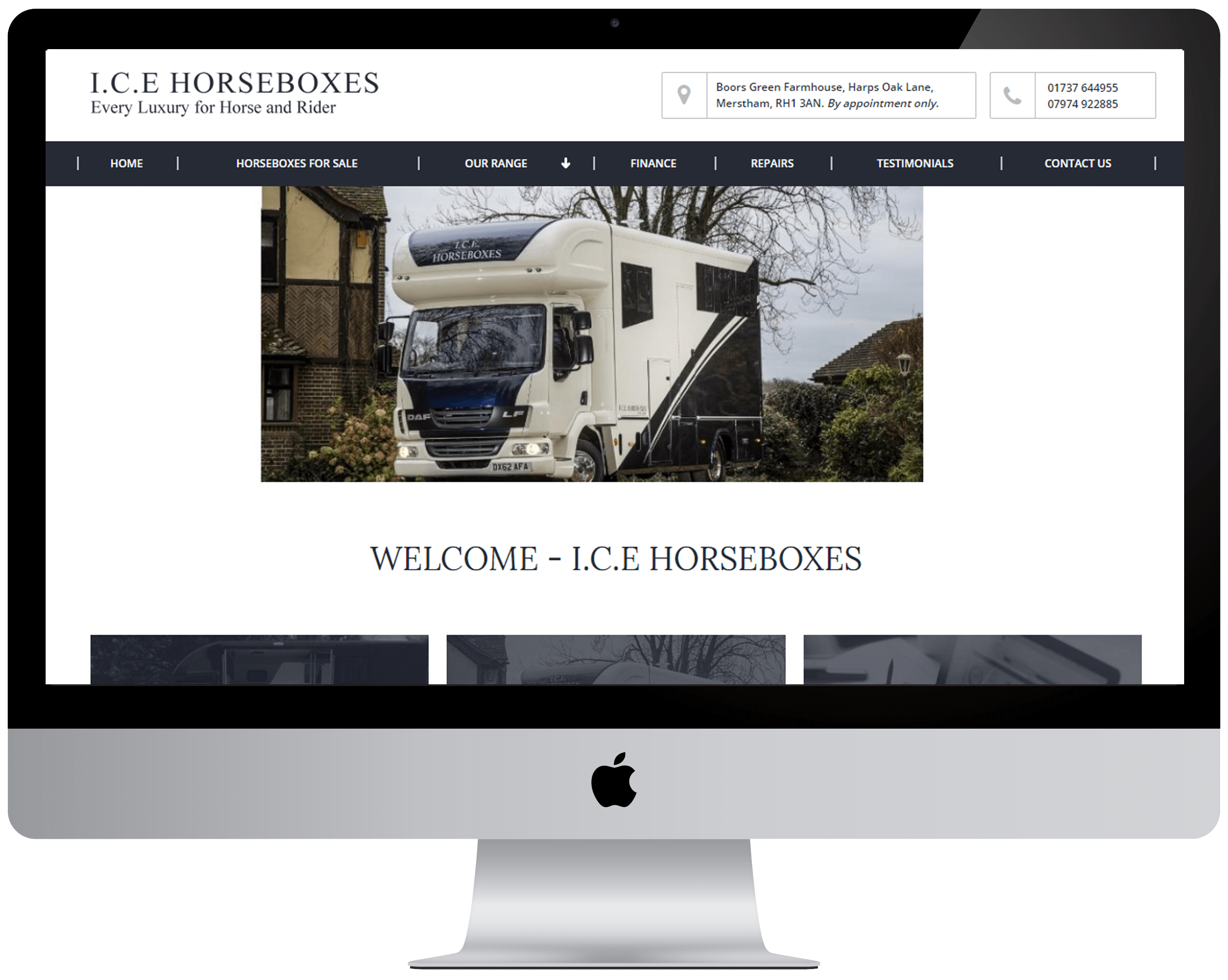 I.C.E Horseboxes are a family run business that specialises in the build and supply of luxury horseboxes. Their Spidersnet Equine website enables them to find buyers online with ease.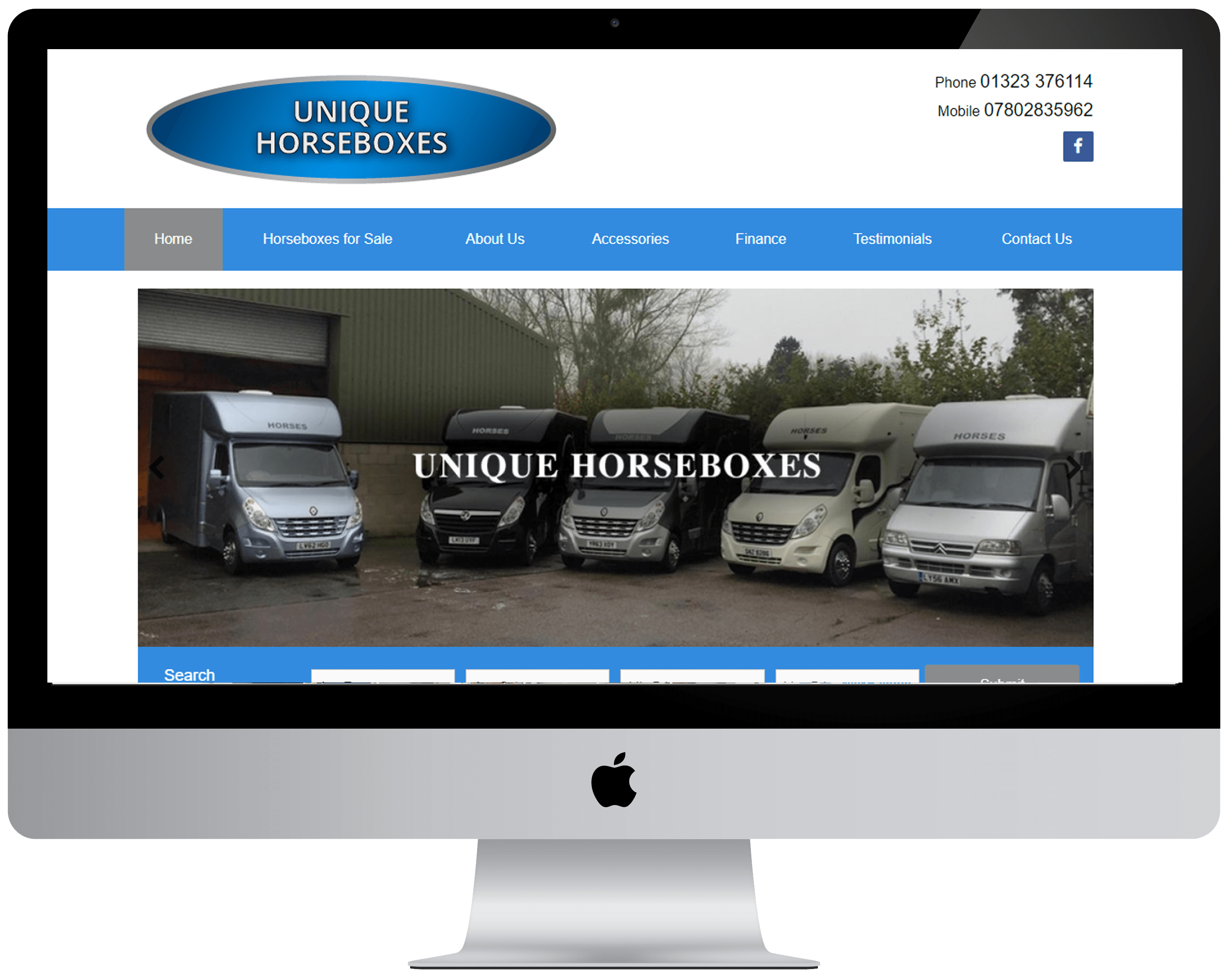 Unique Horseboxes is a family run business based in Hailsham, East Sussex that's built a fantastic reputation for supplying high-end, reliable, and affordable horseboxes. They can now promote everything they do through their smart, responsive website as well as within the Horsemart listings.
Who can I feed my stock to?
As well as having your stock appear on both your website and Horsemart, our Spidernet Equine website solution also has a number of high-profile partners, that you can automatically feed your ads to, with just one click. You have the ability to reach a total audience of 2 million equine enthusiasts every month by broadcasting your stock through Spidernet Equine…

Friday-Ad.co.uk is one of the largest online local marketplaces nationwide, and has over 2 million monthly visitors. 

Canter Banter is the digital home of British Showjumping, offering online editions of British Showjumping magazine and videas and articles which lead the showjumping industry. Our partnership with them mean your ads can be shared across the Brtish Showjumping network with ease!

Everything Horse is a popular equestrian news portal which receives an average of 700,000 page views a month from horse lovers. As a partner of the Horsemart network, any ads you place an Horsemart will also appear on Everything Horse classifieds.

Righthorses.co.uk is a free equestrian classified advertising website, that is available on the web at home or on the go on your mobile. There are 1000's of adverts that be browsed easily or viewed through an interactive map. Easily find horses that are in your local area or narrow down your search to find that perfect horse. Righthorses has been built on a wealth of equine and technical knowledge to create the perfect easy to use platform for the horse community.
We offer 3 different pricing packages for our Spidernet Equine websites. Express, Advanced and Elite are the names of our packages and are designed to suit a wide range of horse dealers needs, whether you usually have  5 or 100 horses for sale.
Our Express and Advanced packages are templated websites – they still allow freedom in terms of colours and font, but the templates have been designed to drive you maximum enquiries about the horses you have for sale.
We do also offer an Elite package, which allows you to work with a professional designer to gives you complete freedom over the entire look and functionality of your website.
The prices are stated as 'from' because you can up the level of exposure you'd like to receive.
Express
A templated website design tailered to your design colours

0-10 ads = from £118

11-20 ads = from £149

Unlimited ads = from £180
Advanced
Pick from 3 beautifully designed templates and customise using your brand fonts and colours

0 – 10 ads = from £170

11-20 ads = from £200

Unlimited ads = from £231
Elite
Bespoke in design, the entire look and feel of your website is completely up to you
"I started using Horsemart as they offered a good package of a yard and design of a website for the business. I find that Horsemart works very well with advertising as once I upload an advert it automatically goes on my website which increases my audience.
I have found that with horsemart I get regular calls about a wide range of horses from both local and international clients. I would  highly recommend horsemart to any others!"