How do customers find your website in the first place?
Having a professional looking website should be top of the list for horse or horsebox dealers looking to grow their businesses, but how do your customers find your website in the first place?
It may be an obvious point, but it's so important to remember: the more people that find your website, the more potential customers will see your business, and, ultimately, the more horses or horseboxes you will sell.
By far the most powerful way in which your website can be discovered by users is from search engines. On average, around 60% of all website traffic comes from people typing in keywords to search engines, knowing they will be presented with relevant results for their search. Google is by far the most popular choice, with 80% of the desktop search engine market share in April 2017.
What's more, in a study conducted by Hubspot, it was revealed that a staggering 75% of internet users never scroll past the first page of search results. A Google search results page has 10 organic results (meaning the websites are not paying to be listed in the results). To ensure you reach the widest possible audience, you need to ensure you appear within the top 10 positions in Google for searches related to your business – the higher up, the better! Therefore, you need to optimise your website to rank highly and be discoverable in search engines like Google and other popular search engines like Bing.
Did you know...

You're more likely to bag a sale from customers who find you online?
Customer leads that come from online SEO searches have a 15% close rate, whereas leads from other forms of marketing such as direct mail or print advertising have a close rate of just 2%. So, to ensure you're not missing out on sales, your online presence must be on-form.
Conversion rate for outbound leads
Conversion rate of online SEO leads
Content is King
Having high quality, relevant content is something you are in complete control of and is therefore something that can easily be optimised to give you the best possible chance of ranking highly.
This means ensuring that all keywords that are related to your business are used throughout your website; things like your type of business, location, the types of horses you sell, and any other services you may offer.
Ensure that all of the pages of your site contain useful relevant information that will benefit the people visiting your site, make sure all your horse descriptions are unique and that you represent your business well.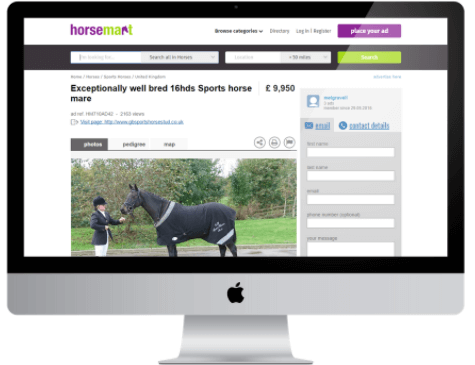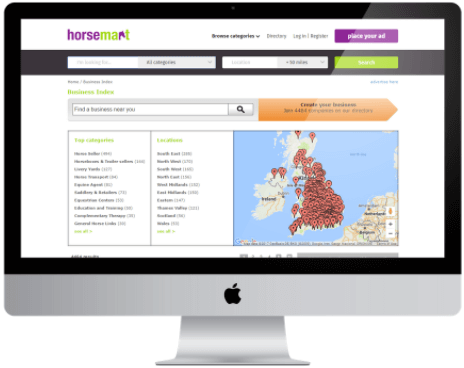 Be Discovered
Having external links to your website from other sites is also easy to achieve. Start with directories and classifieds websites, which many customers will consult in their online search for a horse.
Make sure you provide as much detailed information as you can, and your company logo and pictures too if possible; contact information and a direct link to your website is key. If a user sees that you are a horse dealer in their area on a directory, or likes the look of one of your horses on a classifieds site that you are featured on, they are likely to click on your website link and start having a closer look at your business, without the distraction of your competitors on the same page.
Yell is an important directory which has comprehensive listings of all types of businesses all over the country. It's free to list your business on Yell.com and you have the ability to display detailed information that potential customers will find useful, such as opening times, current offers and photos. 
On Horsemart there's even a directory where users can search by type of Horse or by location. It's free and easy to register your business on our directory, to be seen by our 280,000 monthly users.
Think of directories as an index; to increase your chances of having your website visited by more potential customers, ensure your business is listed on the main local directories, as well as on key industry-specific ones such as The equestrian index. Avoid low quality directory sites, as some unnatural directories can damage a site. 
It's vital to keep all of your content on these directories up-to-date to ensure customers find exactly what they're looking for and are directed to your website if they want to find out more about you.
To Infinity and Beyond
orsesThis is why just having a website isn't enough, you need to have a high quality, relevant and discoverable website. It's why we've created Infinity – it's not just a website provider, but an online solution for dealers like you.
With 20 years of experience in building websites, we know that building a website is not just about making it look good, it's about driving as many potential customers to it as possible. When we build Infinity sites, our in-house team of SEO specialists ensure we incorporate all of your key local search terms to give you the best chance of appearing highly in Google to people looking for businesses and Horses just like the ones you sell.
As well as appearing on your own site, all your ads will automatically appear on Horsemart, so there's no need to upload them twice. This ensures your stock is showcased on two high quality, discoverable sites.
Many of these areas you can work on yourself with a little reading and dedication. If you're after a new website or a solution that does it all for you, talk to one of our team today about Infinity, and how it's helping dealers like you sell more horses and horseboxes.
"I started using Horsemart as they offered a good package of a yard and design of a website for the business. I find that Horsemart works very well with advertising as once I upload an advert it automatically goes on my website which increases my audience.
I have found that with horsemart I get regular calls about a wide range of horses from both local and international clients. I would  highly recommend horsemart to any others!"