British Showjumping
Welcoming Horsemart's newest classified partner
In an exciting business partnership development, Horsemart is delighted to welcome
British Showjumping
on board as our new classifieds partner, meaning they now have a windowed version of the Horsemart marketplace on Canter Banter. Now Horsemart customers can broadcast their stock to
www.canterbanter.co.uk
, the official social hub for British Showjumping.
Canter Banter is British showjumping's dedicated website for streaming live showjumping events, as well as hosting informative equine articles and videos. During top shows the site see in excess of 500,000 visitors, meaning that anyone who has upgraded to the British Showjumping package that Horsemart are now offering, will be getting an impressive boost in exposure to their adverts and therefore increasing the chance of a sale.
For businesses that don't have a Horsemart stocklisting package but would like to advertise on the British Showjumping site, as well as for existing Horsemart customers that would like to upgrade to the the British Showjumping package, you can call Lois on 01772913595 for more info and to get everything set up.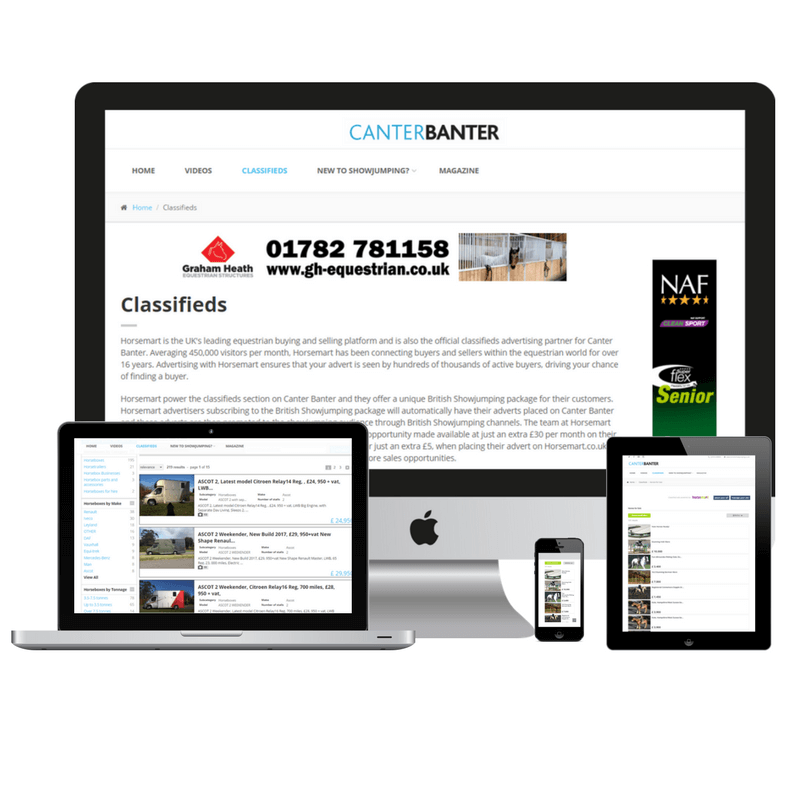 "I started using Horsemart as they offered a good package of a yard and design of a website for the business. I find that Horsemart works very well with advertising as once I upload an advert it automatically goes on my website which increases my audience.
I have found that with horsemart I get regular calls about a wide range of horses from both local and international clients. I would  highly recommend horsemart to any others!"