A completely unprovoked arson attack on a stables in South Wales has killed a young horse and seriously injured another. The owners of the horses have elite breeding experience – owning a Welsh National-winning horse.
The incident was reported to the owners – Janet and Brian Vokes – early on Sunday morning, but there was already nothing to be done. The stable had been completely destroyed. The attack left a two year old horse called Rodney dead, with his nine year old mother Juwireya fighting for her health.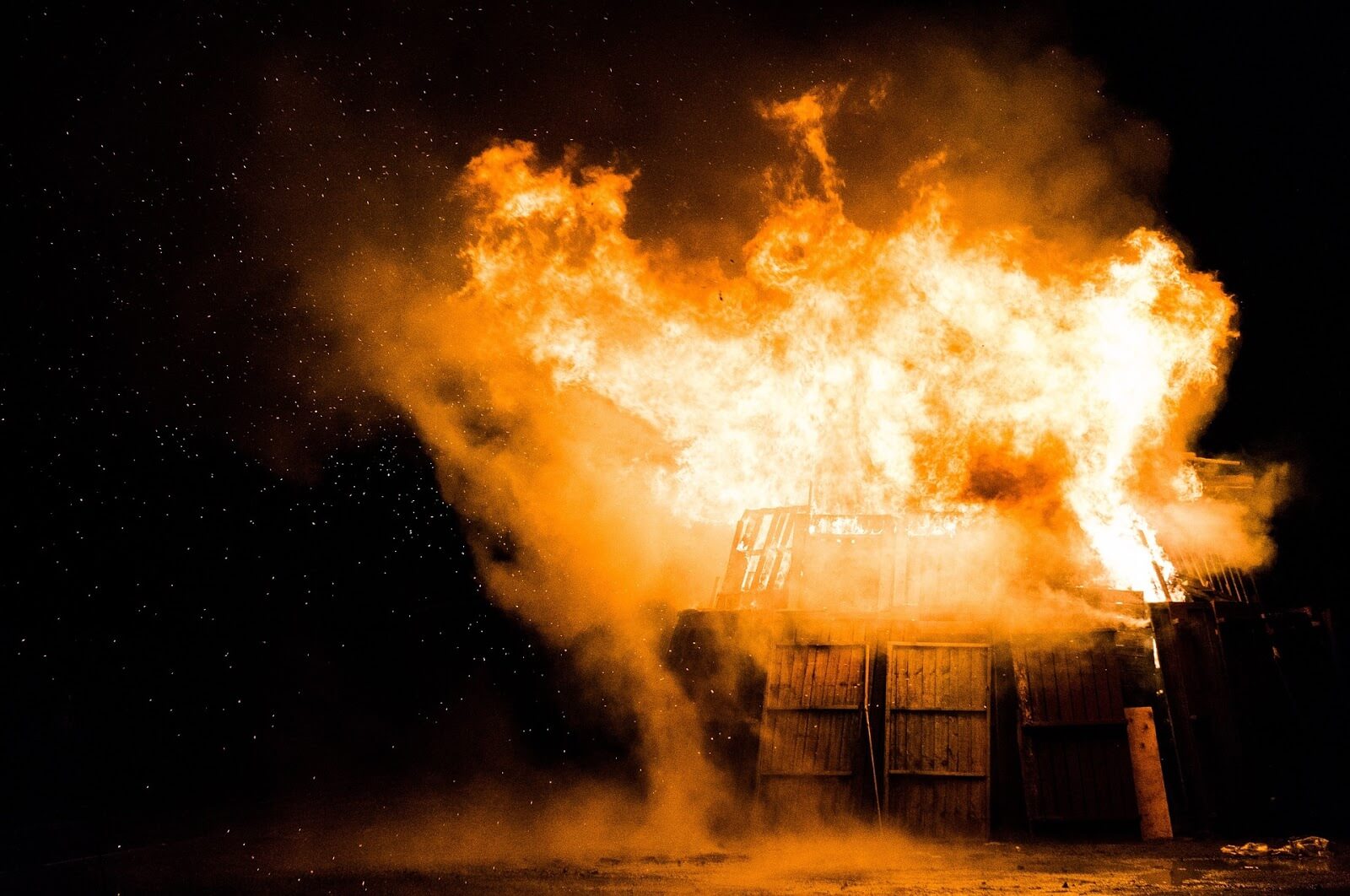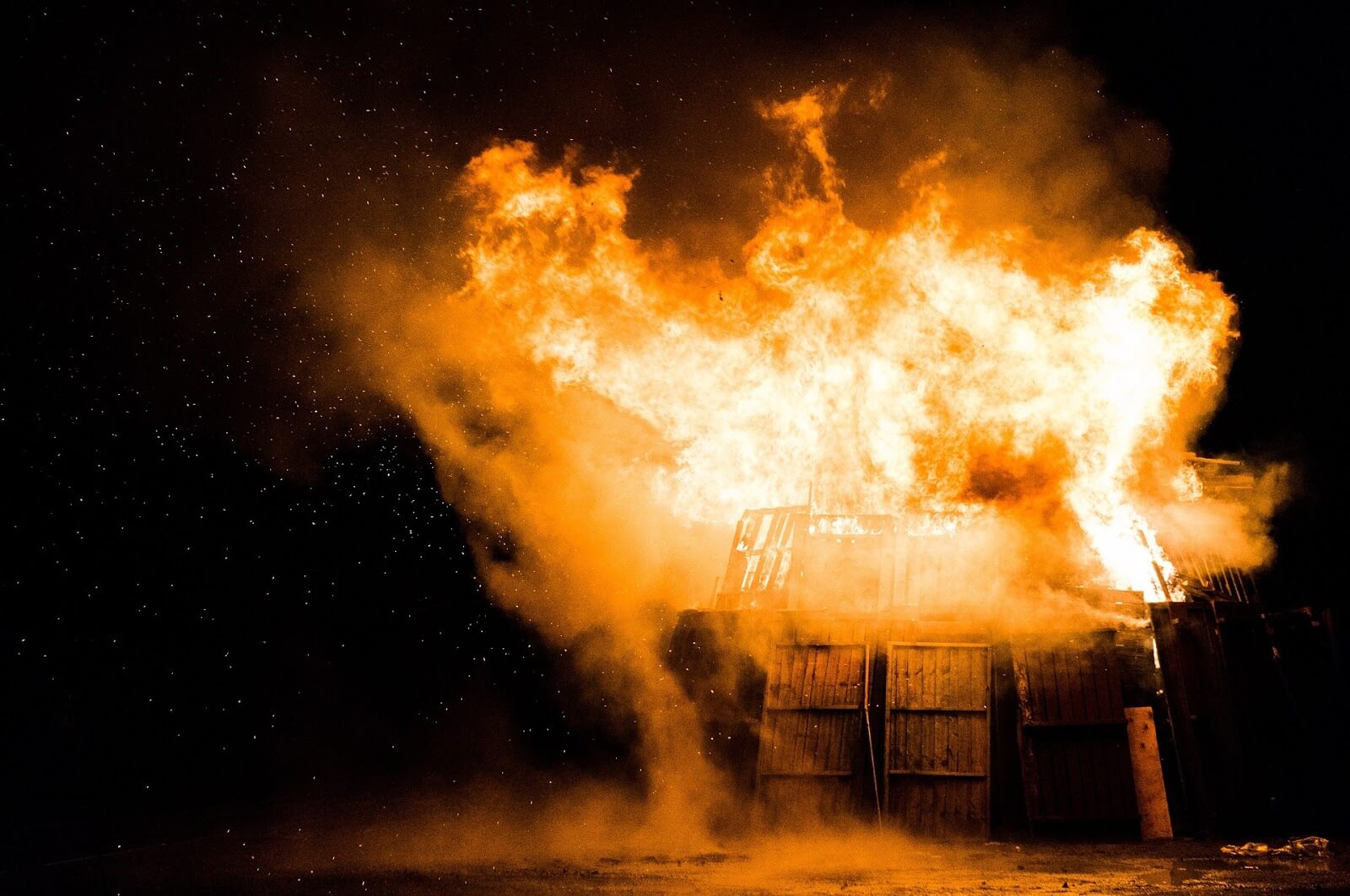 Mr and Mrs Vokes are traumatised by the event that's left them not only grieving over their horse but with an impossible amount of work to do. They've said they just "can't imagine why anyone would do such a thing." As it stands, Juwireya has sustained severe burns all over her body and her overall condition is still very hard to diagnose. The damage costs for Mr and Mrs Vokes currently total to £3,000.
The Vokes family had achieved ultimate success in 2009 when their horse Dream Alliance took the Welsh National crown, as well as a Perth Gold Cup victory. Rodney, was set to be their first horse to follow in the footsteps of Dream Alliance, with a real chance at emulating his Welsh National victory under the name 'Impossible Dream'. He'd spent the summer away from the stables in a free-range environment in Monmouthshire and had only been back at the stables for a few weeks.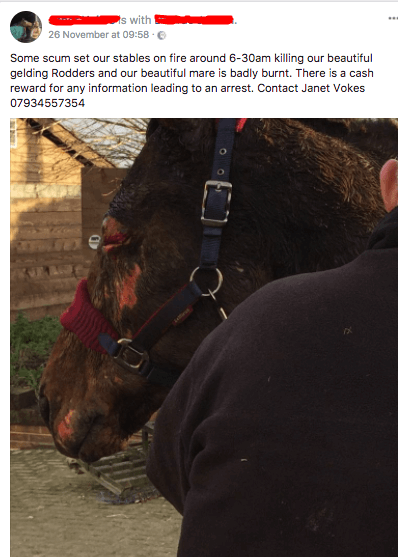 Mrs Vokes expressed her horror on Facebook and is offering a cash reward for any information that could contribute to an arrest
The success of Dream Alliance was a true heartwarming underdog story as his training and provisions were firstly funded through the local men's club; the Vokes family had many friends there who contributed on a '£10-a-week' basis. Thanks to Dream Alliance's winnings, Rodney was lucky enough to be provided with expert care and top training, making him a big prospect in racing.
Mrs Vokes is pleading for anyone with information to come forward and tell the police. It's been hard for them to find any immediate evidence themselves as there were no recordings or even lights up at the stable in Cefn Fforest, Caerphilly. Vokes exclaimed that they have 'no enemies' and they have no personal belonging up there except the horses.
The fire service were called shortly after the sighting to fight the flames. They sent a substantial crew up to Cefn Fforest and managed to stop the blaze, but not before Rodney was seriously hurt. Jennie Griffiths form the South Wales Fire and Rescue Service has confirmed that the attack was 'deliberate'.